Regular price
Sale price
$89.99
Unit price
per
Sale
Sold out
The future of food safety - Ultra-Pure Chlorine Dioxide
A harmonious blend of cutting-edge science and purity, this sanitizer ensures your food remains as nature intended: fresh, clean, and free from harmful microorganisms.
Key Features:
Uncompromised Freshness: Effectively combats spoilage organisms, prolonging the freshness and shelf life of your produce.
Broad-Spectrum Efficacy: Targets and eradicates a wide array of foodborne pathogens, offering comprehensive protection for all your edibles.
Eco-Conscious Solution: Breaks down into environmentally friendly by-products, making it a responsible choice for our planet.
Rapid Sanitization: Quick-acting formula that ensures your food is ready for consumption or storage in no time.
Taste Integrity: Sanitizes without altering the taste, aroma, or texture of your food, ensuring an unadulterated eating experience.
Safe for All Edibles: From fruits and vegetables to meat and seafood, our sanitizer is compatible across the food spectrum.
User Safety Priority: Formulated with the utmost care, it offers powerful sanitization without any health compromises.
Redefining Food Safety:
In an era where food purity is a top concern, the Ultra-Pure Chlorine Dioxide Food Sanitizer stands as your trusted guardian against contaminants. Every splash promises a layer of protection, ensuring that every bite you take is not just delicious but also safe.
Specifications:
The Selectrocide A12 generates 6 gallons of 500 ppm ultra-pure ClO₂ and is intended for applications that require large amounts of pure ClO₂. The A12 is easy to use- simply remove the sachet and place it in a covered tank or bucket and generate for 2 hours. Dilute the solution to fit your needs. The A12 is used as a food contact antimicrobial and is also recognized and registered with the Organic Materials Review Institute. The A12 is commonly used in food processing facilities, groceries, or restaurants.
FDA-Approved Food Contact Notifications allow for use on poultry, red meat, seafood, mushrooms, fruits and vegetables
Product can be applied to both Raw Agricultural Commodities and non-RAC goods
Easily adapted product into current food processing protocols and technologies 
Can be applied as a liquid or used as a fumigant
Has been shown to extend the quality shelf life of produce
Can be used to decrease amount of bacteria on food products
Share
View full details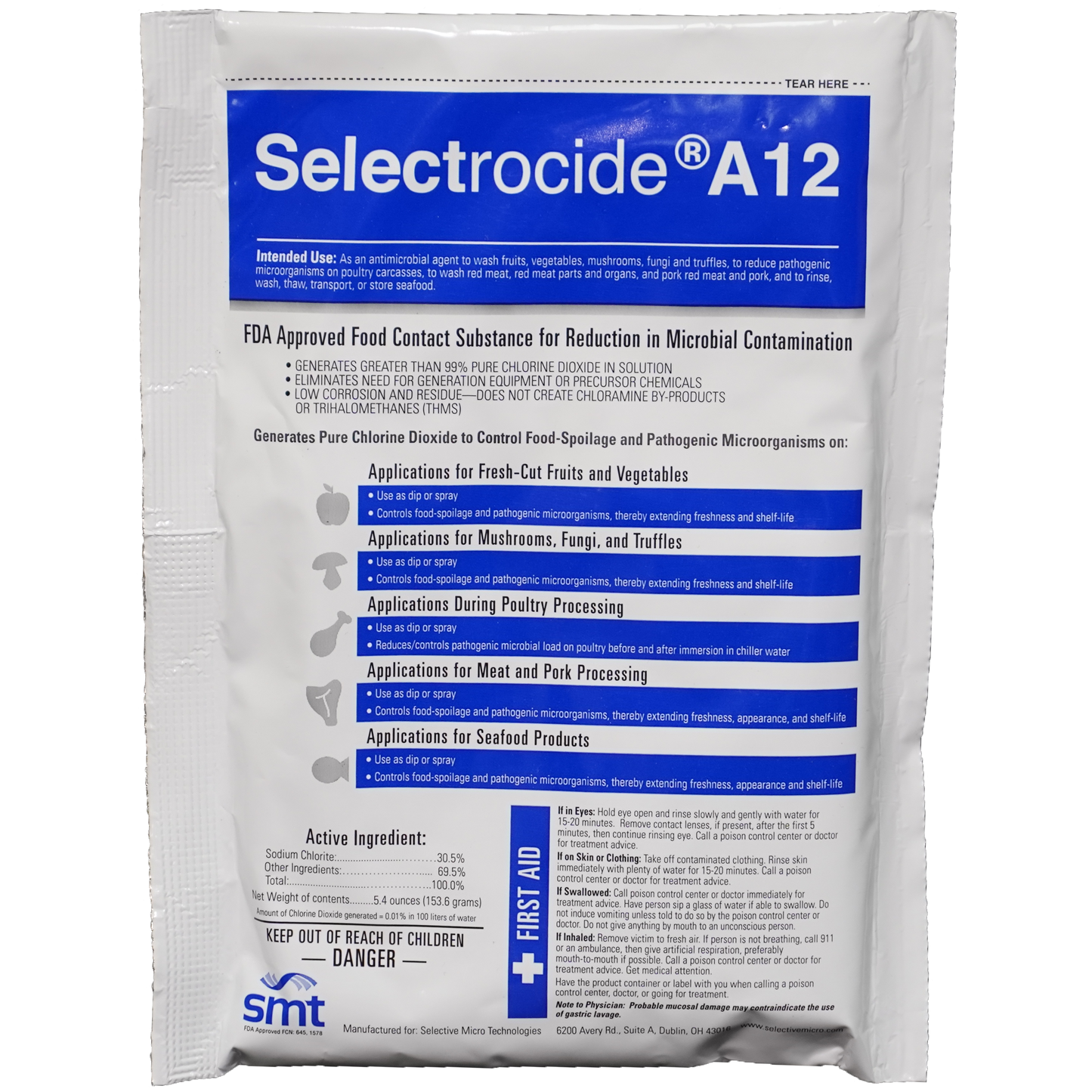 Let's Talk
Ask us about your application and delivery needs.